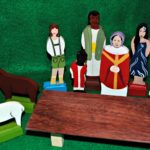 Small Children (Pre-School – 1st Grade)
Rooted in story, liturgy, and discovery, Godly Play is a biblical curriculum designed for children, helping them seek and find the mystery of God's presence.
---
Older Children and Youth
re:form Ancestors is a youth Bible study that helps students get to know personalities from the Old and New Testaments, encouraging youth to see the similarities between themselves and their faith ancestors. This study is for both Children and Youth Sunday School.
---
Adults
We are currently doing a series on the Book of Common Prayer. Topics include the Calendar of the Church Year, the Lectionaries, the Daily Offices, the theology of Holy Baptism and Confirmation, Holy Eucharist, and the Pastoral Offices.