Clergy
Robert M. Corley, Rector
Fr. Bob grew up in Garland, Texas as a member of St. Barnabas Episcopal Church. He is a graduate of The University of Texas at Arlington with a degree in Mechanical Engineering and The University of the South in Sewanee, Tennessee with a masters degree in Divinity. Fr. Bob is currently enrolled in the Doctor of Ministry program at Trinity School for Ministry in Ambridge, Pennsylvania.
Fr. Bob is active in Diocesan ministries. He is currently serving as the Executive Director for Cursillo Ministries in Dallas and Fort Worth, on the Commission on Ministry, and the Representative of the Western Convocation.
Fr. Bob's hobbies include running, cycling, and woodworking.
For inquires of a ministerial nature, or for information about Christian education classes, youth and adult confirmation, baptism, weddings and funerals, contact Father Bob directly by contacting us or by calling the Parish Office at 972-253-7124.
Staff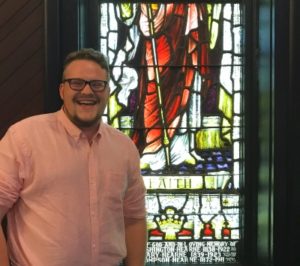 Alex Pounders, Youth & Family Minister
Alex was born and raised in the Dallas area.  He has been very active in the Diocese of Dallas for the past two years as the Youth and College Minister at St. Luke's Episcopal Church in Denison, Texas.  While at St. Luke's, Alex was recognized by Bishop Sumner for building the fasting growing college ministry in the Diocese.  He has also served for the past several years as a counselor at Camp All Saints summer camp. Currently, he is pursuing a Bachelors in Hospitality Management at the University of North Texas and he was recently licensed as a professional chef.  Alex is very passionate about evangelism and youth ministry and, with the Bishop's permission, hopes to start the ministry discernment process in 2018. His hobbies include playing music and cooking. Alex's parents also serve the Diocese of Dallas.  His mother, The Rev. Dr. Marci Pounders, is the Associate Rector at Ascension, Dallas, and his father Tracy is an Assistant Chancellor.
Frank Christman, Organist / Choir Master
Carla Wallace, Parish Administrator
Vestry
At the head of Saint Mark's lay leadership is the Vestry, the elected group of leaders responsible for all church matters not ecclesiastical. The vestry meets regularly to review monthly operational expenses of the church, receive and review reports from various committees, plan and authorize capital improvement projects, and attend to concerns within the parish.
Saint Mark's Vestry consists of six members who also serve as greeters for all services:
Jane Gardner, Senior Warden
George Watson, Junior Warden
Sarah Tate, Treasurer
Robert Nelson, Clerk
James Cassels
Humphrey Chavunduka
Sherece Johnson
Convention Delegates
Lorraine Mundangapfupfu
Tina Walsh