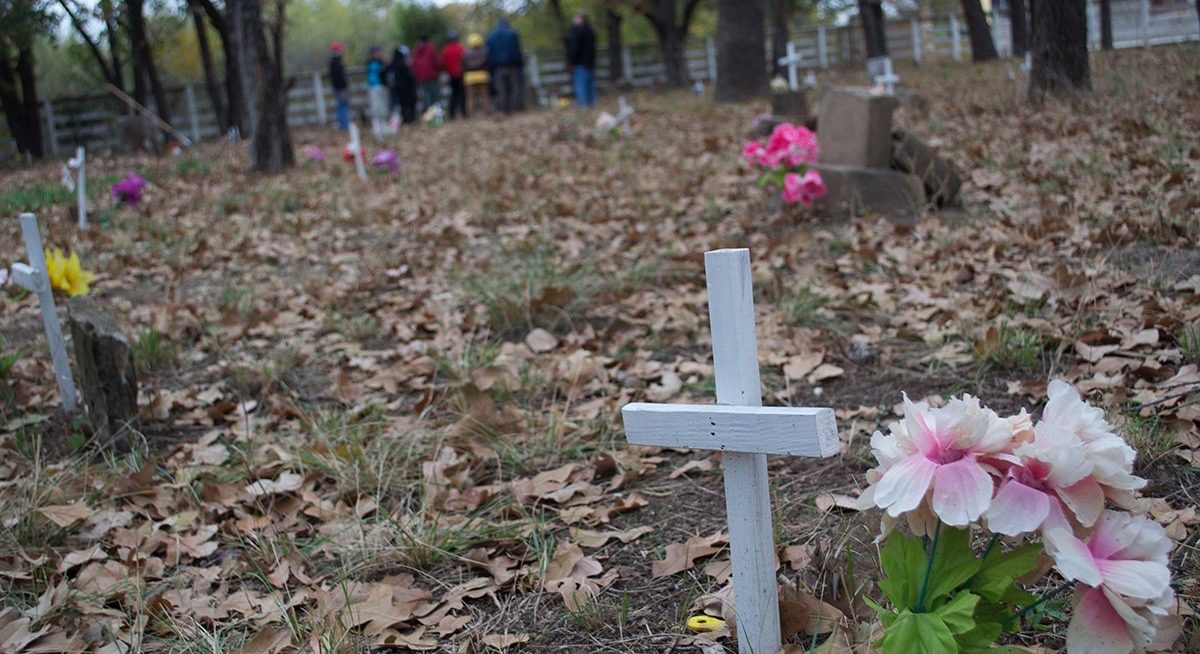 Restoration Project
St. Mark's participates in the restoration of Shelton's Bear Creek Cemetery, one of Texas' oldest slave burial sites.
About Shelton's Bear Creek Cemetery
African Americans came to this area as slaves of white settlers such as William Haley and William Borah before 1845. The land around this site was deeded to early white settler Chilton Smith in 1851. After the Civil War, many former slaves stayed in the area and formed a large African American settlement. In 1879, Minnie Shelton purchased 80 acres including this site for $130, and the Shelton family donated the land for use as a cemetery.
The earliest marked burial was that of 23-year-old Smith King in 1895. Other burials of interest include those of Rose Dilworth, whose family owned property in Dallas about 1900, and Elizabeth Lawson, born in the community of Bright Star (later Sulphur Springs), Hopkins County. Her tombstone bears the insignia of the fraternal organization the Independent Order of The Knights and Daughters Of Tabor of America.
The land remained in the Shelton family until 1933, when it was deeded to Emily Flippen. The last marked burial took place in 1934. By 1943 the entire Chilton Smith homestead belonged to Emily and W. H. Flippen of Highland Park in Dallas. The property became known as Wild Briar Farm during this time. In 1946 Carr P. Collins and his family purchased the land surrounding the cemetery.
Access to the burial ground often has been restricted, and regular maintenance was difficult during the twentieth century. A cemetery survey in the 1970s found that twelve legible headstones remained. It is believed that there are more than 200 burials on this site, a chronicle of the African American history of this area. (Historical Marker, 2000)
Genealogy Research
Sherry Johnson, a member of St. Mark's Episcopal Church has done extensive genealogy research on Shelton's Bear Creek Cemetery. You can find the ongoing project of updated internments here.
Ongoing genealogy work on the Bear Creek Community can be found here.
Get Involved
For more information about the restoration project or how you can get involved, please contact Fr. Bob Corley at 972-253-7124.